WUA & NovuDialog
How WUA uses NovuDialog to quickly create new data-driven surveys without having to use code.
WUA's challenge
WUA conducts many benchmarking studies each year. In these studies, they often use a survey as a tool to assess how participants experience websites. WUA needs to be able to quickly set up new studies, and create surveys that can handle a lot of participants. This is the only way they can keep up with the fast pace at which websites are changing, and make sure that their clients never have to wonder what users think and feel when they use their websites.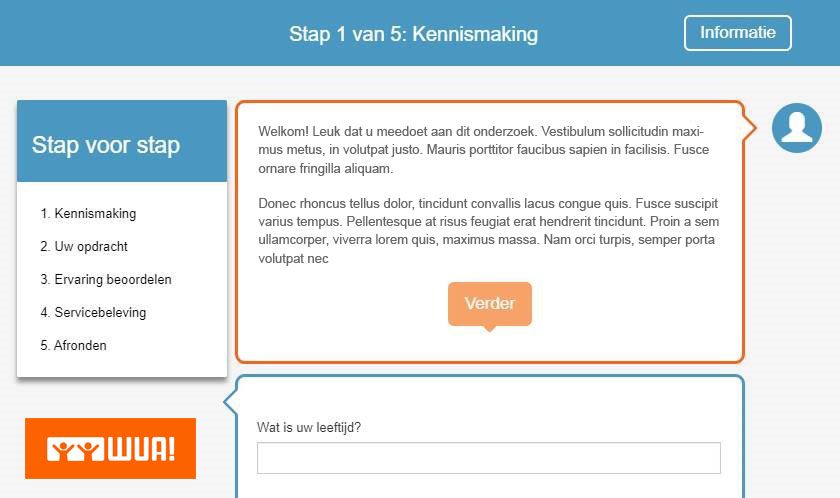 Building surveys with NovuDialog
WUA's employees use the tools of the NovuDialog platform to create surveys without any coding knowledge. In the platform they create new surveys that; look good on any device, and include advanced dependencies, in no time
One of the major advantages of using the NovuDialog platform for WUA is that they can create data-driven surveys. The platform allows them to set up a standardised data model and to connect each survey question to a field in this data model. Through this data model, unique to NovuDialog, the process of visualizing collected data becomes very easy.
"NovuDialog keeps all our users happy. The teams that make the questionnaires and reports, the panels that deliver the respondents and the respondents themselves. It supports the whole process. NovuDialog is easy to use and it is still possible to do the most difficult things if you need them."
Collecting data
Many participants take part in each of WUA's studies at the same time, which means that the NovuDialog application has to be able to handle a lot of concurrent participants without running into load problems. The NovuDialog application is built with scalability in mind; so serving WUA's hundreds of concurrent users, answering thousands of questions at the same time, is never an issue. Performance is one of the key features of the NovuDialog platform.
Analyzing data
From NovuDialog, the collected data becomes available via a data feed. WUA uses the data to create their high standard, high quality reports that have made them the absolute best in their field. Because of the NovuDialog data model, the process of creating reports can be done mostly automatically by WUA, and usually only requires a researcher to arrange the data visually.
Key benefits of using the NovuDialog platform for WUA
WUA is able to quickly create new dynamic, data-driven surveys without having to use code.

WUA's surveys can handle many concurrent users without running into problems.

Because of the NovuDialog data model, reports can be created almost automatically
About WUA
WUA is an Amsterdam based organization that is the worldwide Market Leader in Digital Customer Experience Benchmarking. The WUA bechmark for sales and service delivers their clients a detailed perspective on how consumers experience their website versus their competitors' websites.

Visit WUA's website